This year's Homecoming Parade will be in North Hampton on Thursday, October 17th at 6PM. As always, community groups are welcome to participate in the parade. Any community groups who are interested in participating should email Lauren Petty at
pettyl@nwlschools.org
for more information.
Congratulations to Northwestern's Student of the Month, Mattie Steiner and Citizen of the Month, Jensen Jenkins.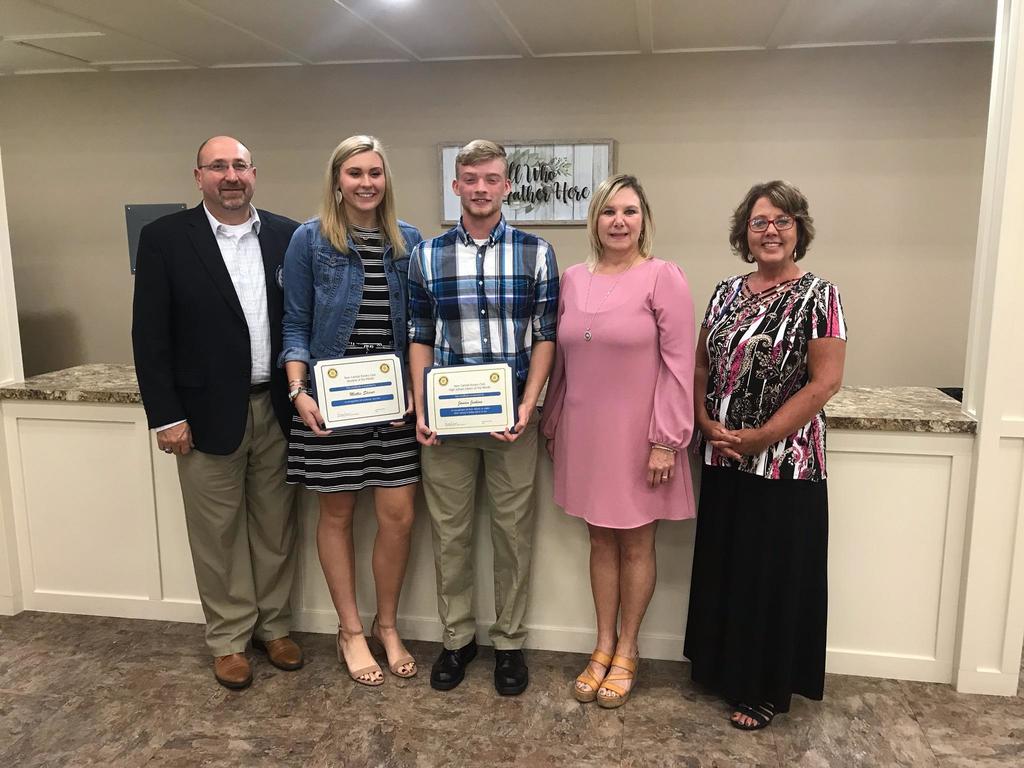 Weekly Events Tues, Sep 17 -College Fair Night is from 7-8:30 PM at Hollenbeck Hall. Wed, Sep 18 -Boys Soccer hosts Tecumseh @ 6pm Thurs, Sep 19 -Last day for the Ele. Fall Fundraiser -Jr/Sr High Conferences 4-8pm -Board of Education Meeting @ 6:30pm in the Community Room of the Athletic Complex Fri, Sep 20 -Interims go home! -Home Football game vs. Shawnee @ 7pm -Fall Sports Senior Parents Night @ the football game Mon, Sept 23 -MS volleyball hosts Tecumseh- 7th @ 5:30pm and 8th @ 7pm General: -Book Fair is going on this week at the Elementary! Families can come and shop on Thursday night from 6-8pm in the Elementary Library.
Northwestern football players have been seen reading in our first grade classrooms this year. Pictured is senior Korbin Spencer doing just that. Coach Brian Stevens had this to say about what they are doing. "As a football program we are trying to show our players the positive impact that we can have on others around us. We want our players to realize that "little eyes are always watching." We want our players to be role models for the younger students and to understand they have a responsibility to lead and demonstrate positive behaviors for our future students and players." Thank you to the coaches and players who are stepping outside of the box to be GREAT! #GoWarriors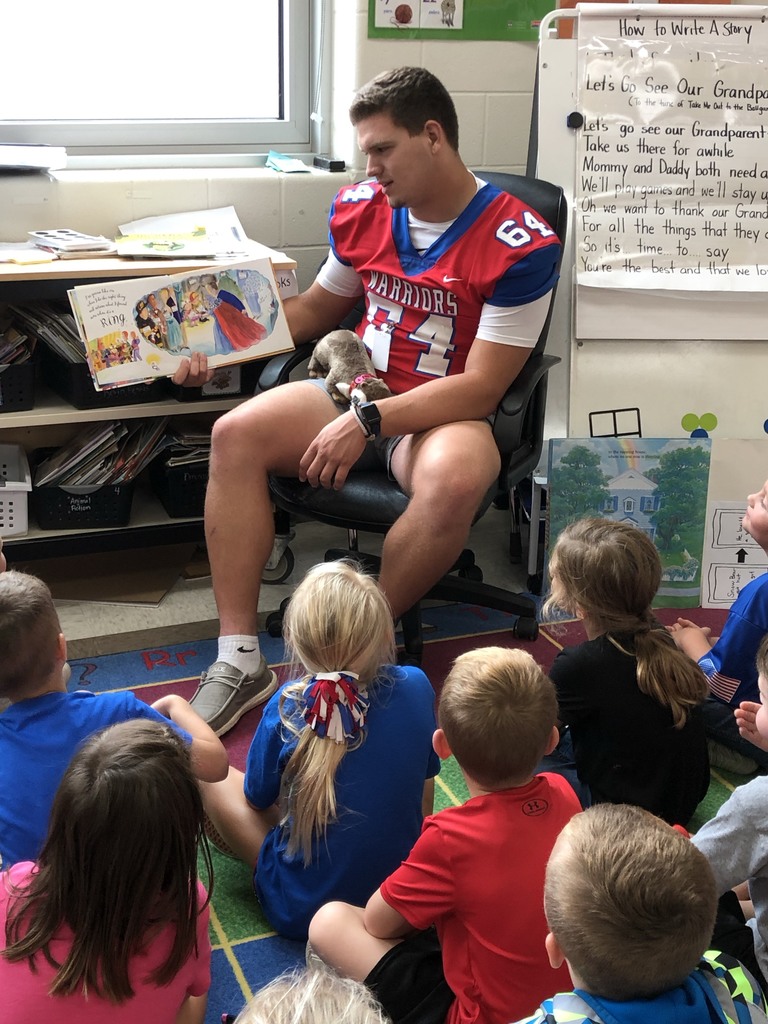 Weekly Events Tues, Sep 10 • Boys Varsity Golf hosts Graham @ Reid Golf Course @ 4:30pm
 Wed, Sep 11 • Immunization Documentation Due to the Clinic for all 7th and 12th graders
 Thurs, Sep 12 Fri, Sep 13 • PTO Activity Night (Grades 4-6th) is 6-8pm. Pre-Registration is REQUIRED by Tuesday, Sept. 10th!
 Sat, Sep 14 • JV Football hosts Milton Union @ 10am
 • Troy Marching Band Contest @ 2:45pm
 • Bump for Becky Volleyball Event @ 3pm @ Sr. High Gym
 • Varsity Soccer hosts Greeneview- Girls @ 5:30pm and Boys @ 7:30pm
 Sun, Sept 15 Mon, Sept 16 General: • The PTO Spirit Wear sale order deadline is Friday, Sept. 13th. • The Warrior Care Closet is now open. Students who need personal products or clothing can stop by the clinic or counselors' office at the Jr./Sr. High School. It will also be open during P/T conferences on Thursday, Sept. 19th from 4-8:00 PM. • College Fair Night is Tuesday, September 17th from 7-8:30 PM at Hollenbeck Hall.
TEST: We are currently testing our new weekly phone notification system. This is only a test. Thank you for your patience and we apologize for any inconvenience.
So great to witness this at Northwestern! Mason Vanhoose welcoming his uncle, E3 Jesse Turner, home from the service. Thank you Mr. Turner for your service!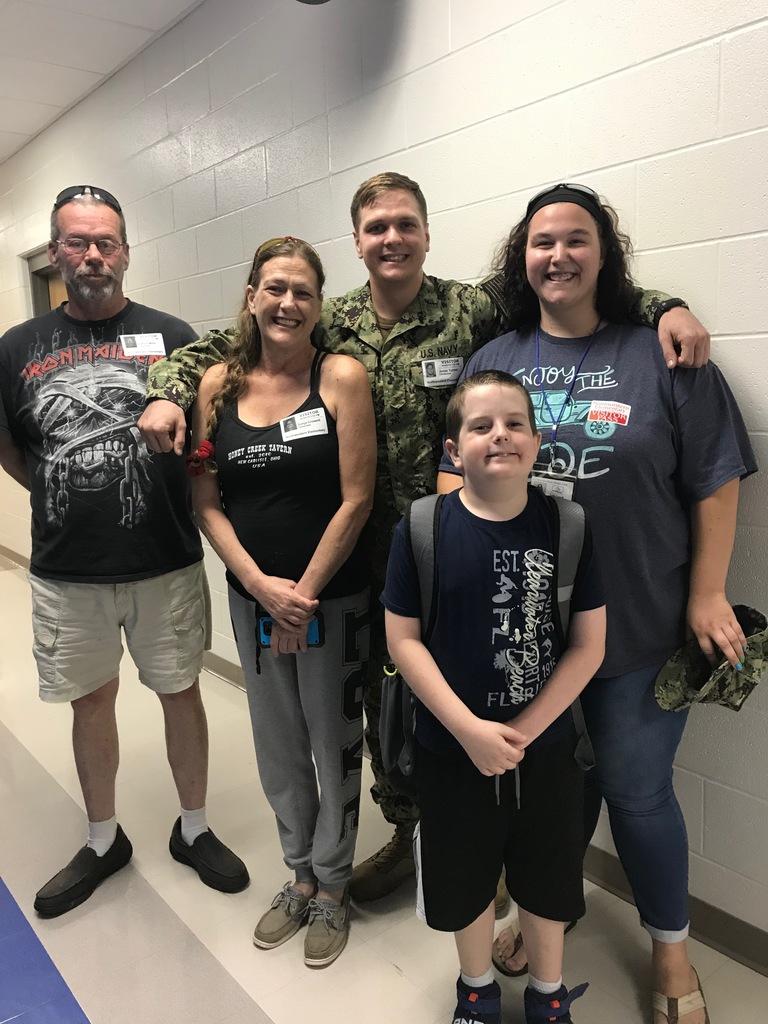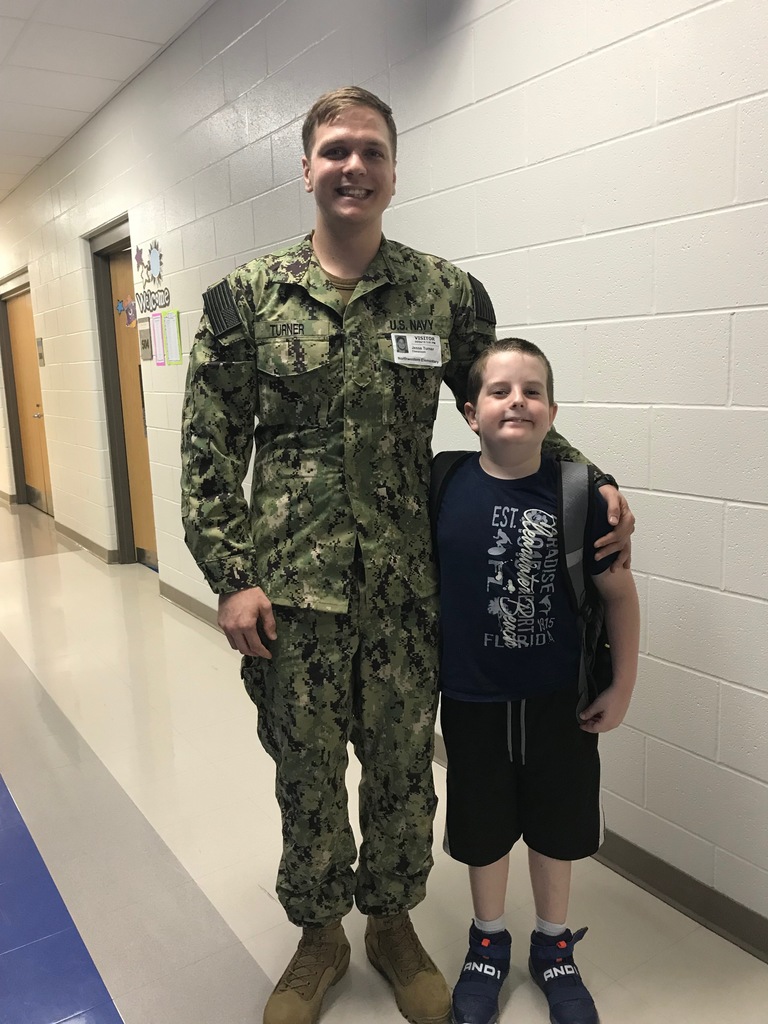 STEM Grades 4, 5, and 6 classes have been working on team building challenges in order to establish a positive culture that fosters the norms that students shared for our STEM classroom. The five norms that we think anyone who enters our classroom should notice and feel are SAFE, INNOVATION, COOPERATION, THINKING OUTSIDE THE BOX, and FUN! We've built pipecleaner towers, index card towers, jellybean/toothpick towers, spaghetti/marshmallow towers, and the longest paper chains! Experiences in this room are what you make of them! The possibilities are endless! -Mrs. Swensen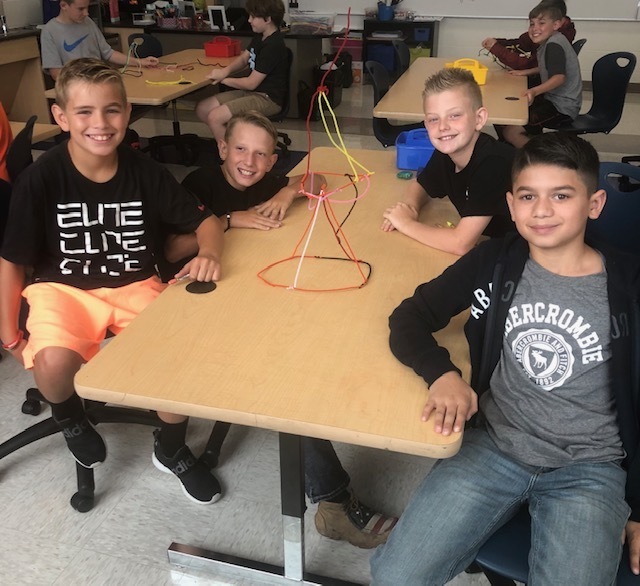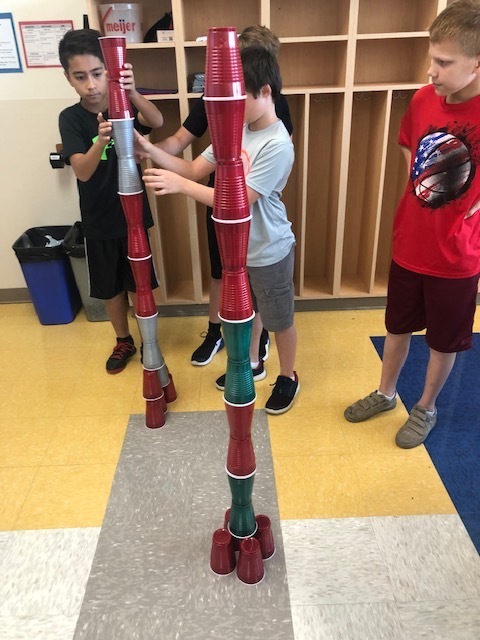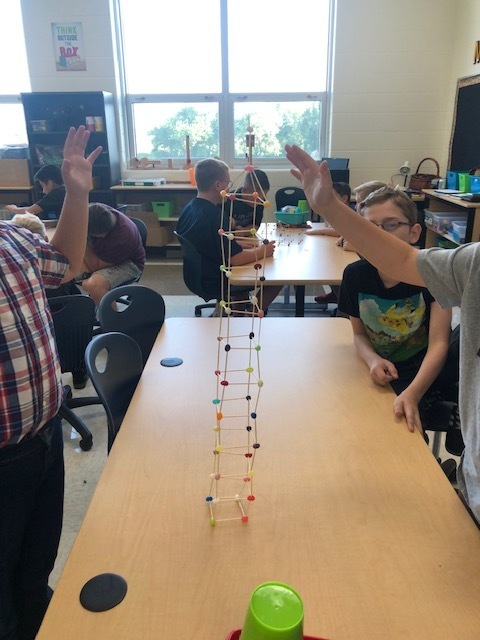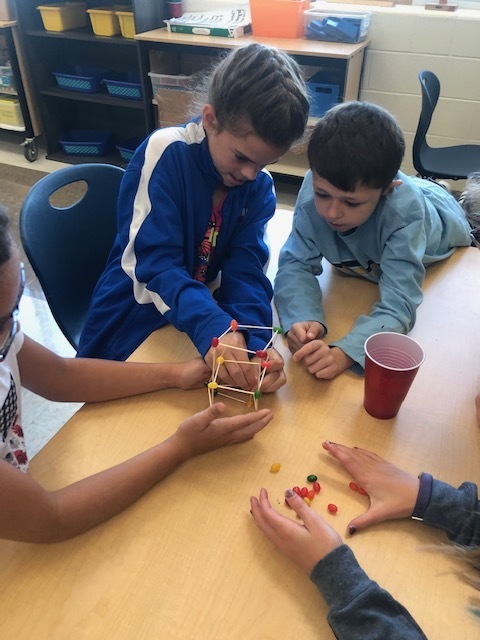 Yearbooks are in! Get your copy of the 2018-2019 Warrior Yearbook! Limited quantities available. Cost is $70.00 - contact Mrs. Boggess at the high school.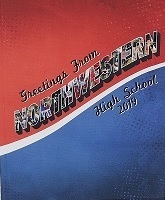 Great News!! Drew Blazer placed 1st at the Treaty City Invitational today in the Division I/II race and Kassidy Carpenter placed 2nd in the Division I/II race. Congratulations Drew and Kassidy!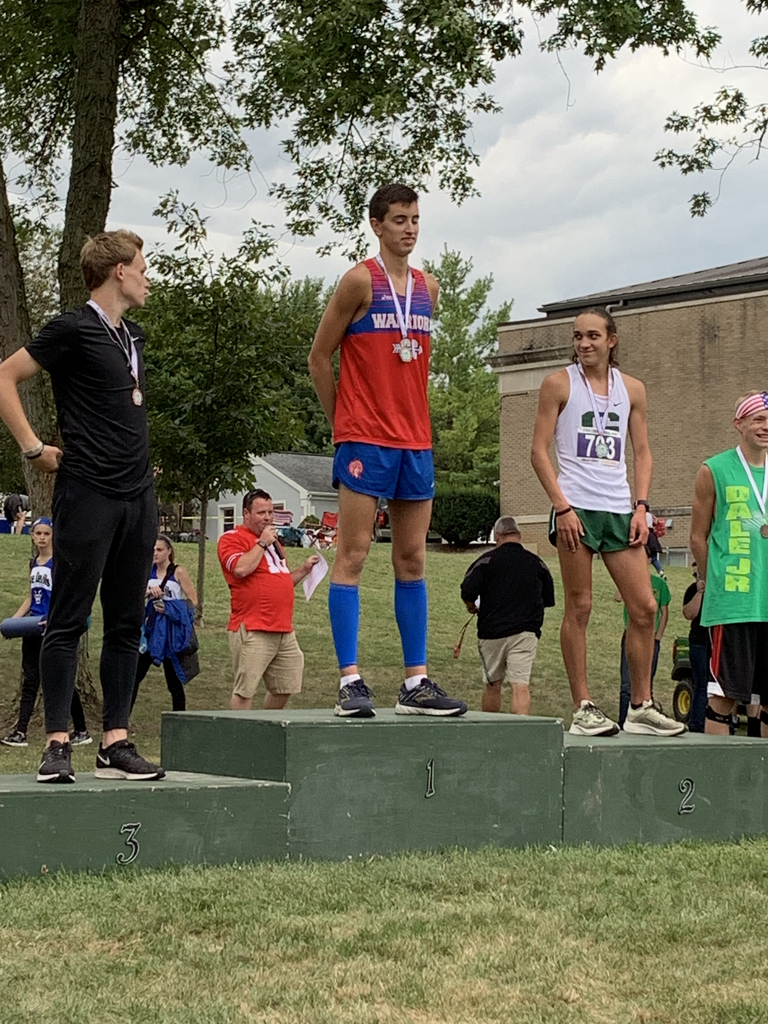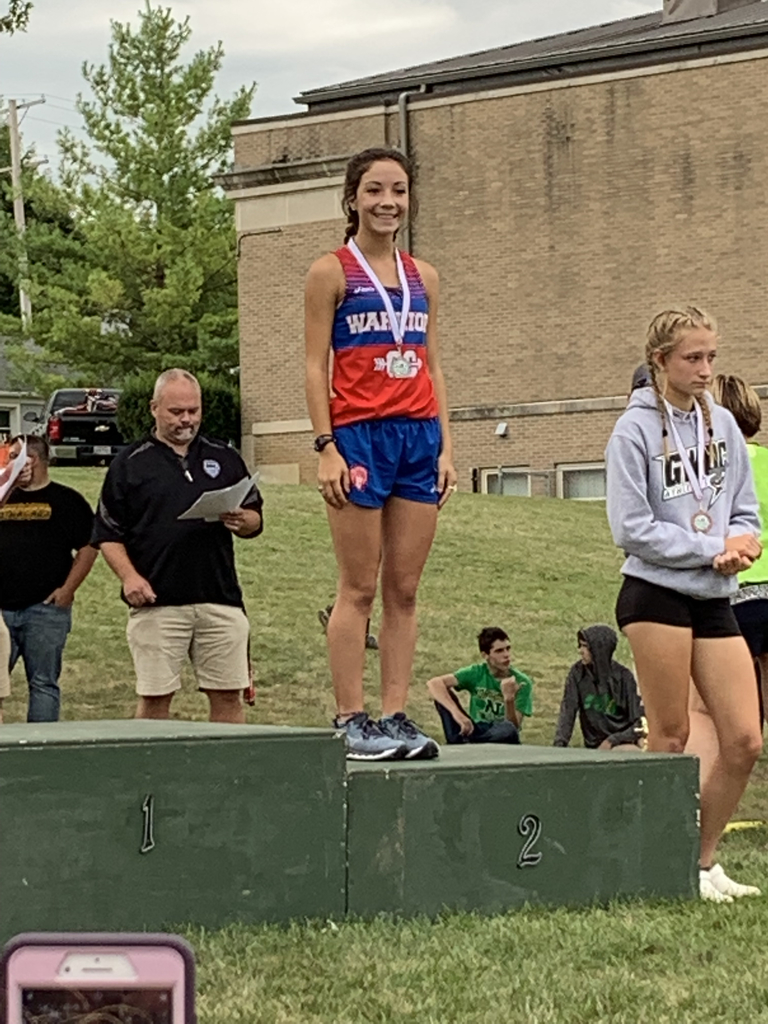 Please join us Friday night for the first home football game. The athletic boosters are having a BBQ fundraiser and then get dessert from the band boosters bake sale. Go Warriors!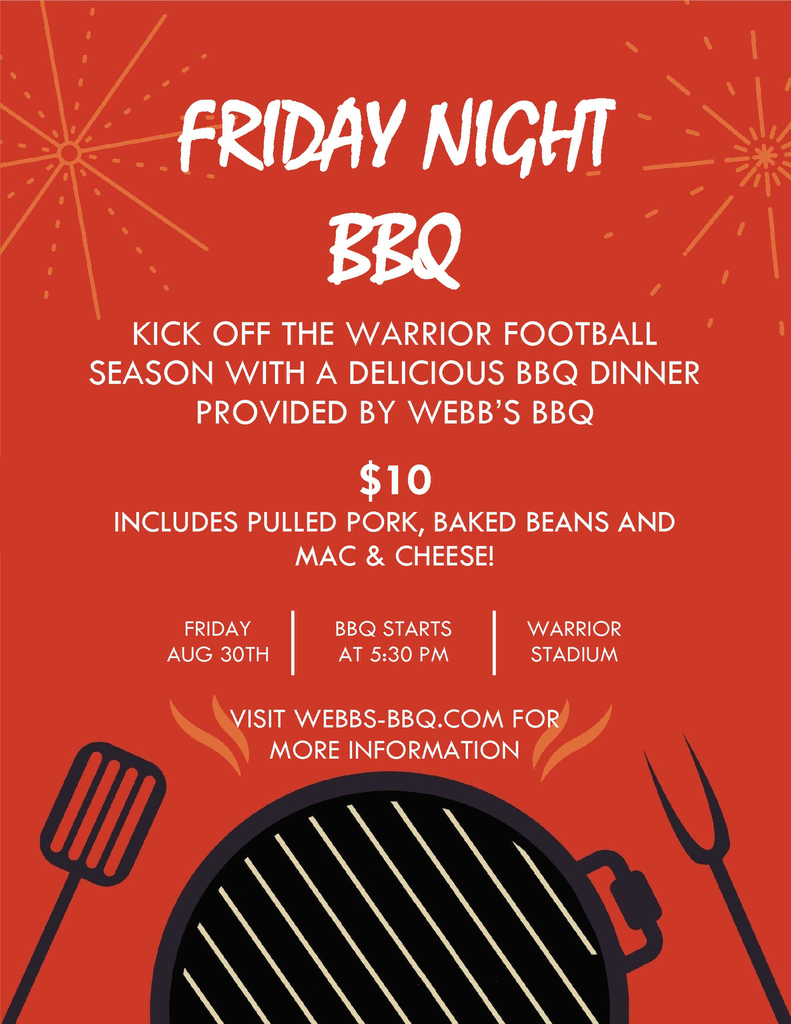 CHANGE NOTICE: The boys varsity soccer match against Bellefontaine has been postponed until Wednesday, September 11, 2019, starting at 6:00 p.m.
CHANGE NOTICE: Due to field conditions at Taylor Field, the Bellefontaine at Northwestern boys soccer game scheduled for tonight, Monday, August 26, 2019, has been rescheduled to Tuesday, August 27, 2019, starting at 6:00.
Please welcome Rachel Poynter to Northwestern! Rachel will be serving our Jr/Sr High students as Guidance Counselor. Let's welcome her to our family!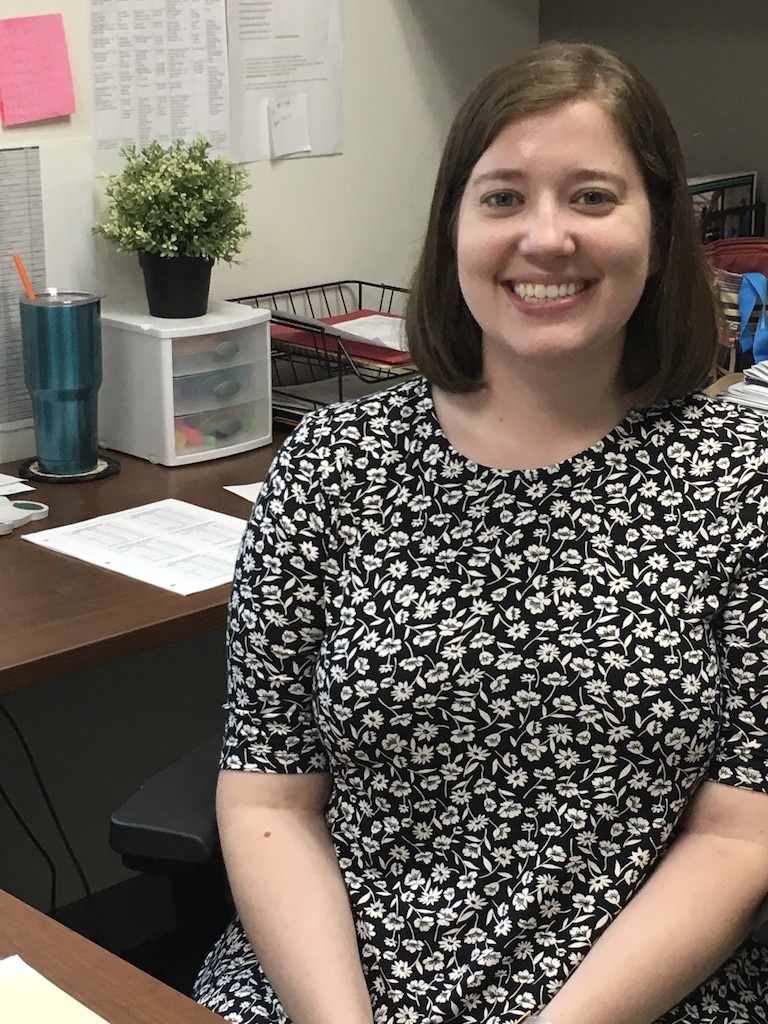 Please give a warm welcome to Lana Fitzsimmons! Lana will be the new face at the front desk in the elementary to greet you! Welcome Lana!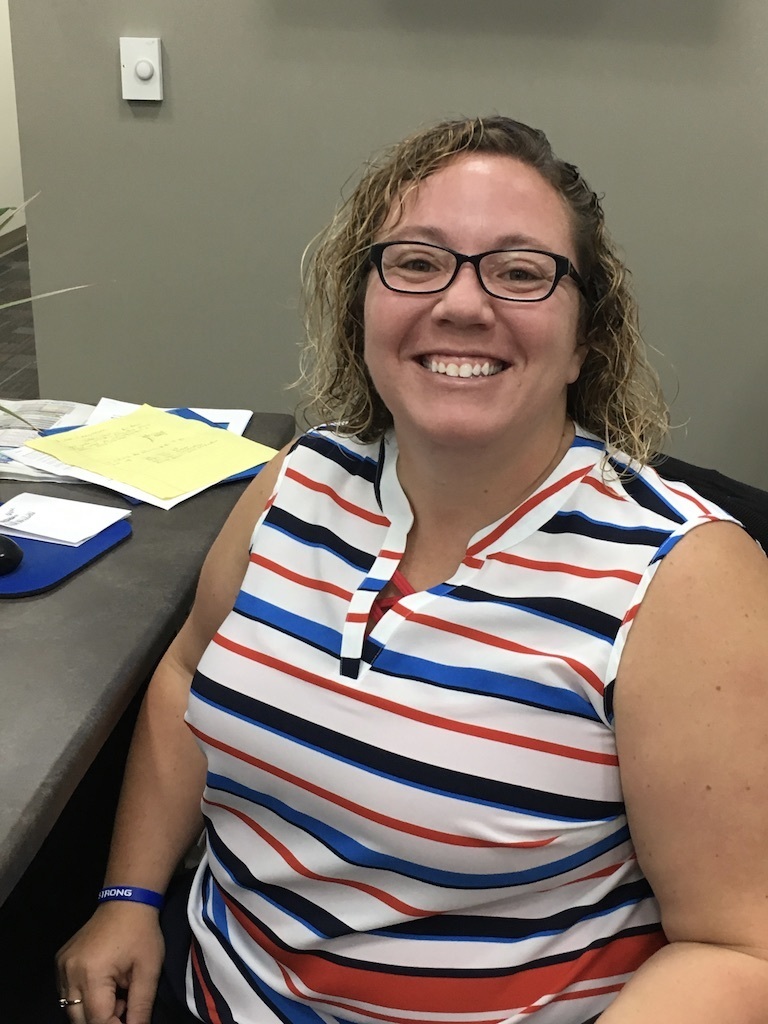 Good afternoon Northwestern Warriors! We had a great first day of school and we are so excited for this school year! The elementary took a little extra time this afternoon to make sure everyone was on the right bus, so some elementary bus rides might be a little late getting home. Have a great day and Go Warriors!
Welcome Ryan Leach to the Northwestern family! Ryan is our Student Services Coordinator, as well as our school Psychologist. Welcome aboard!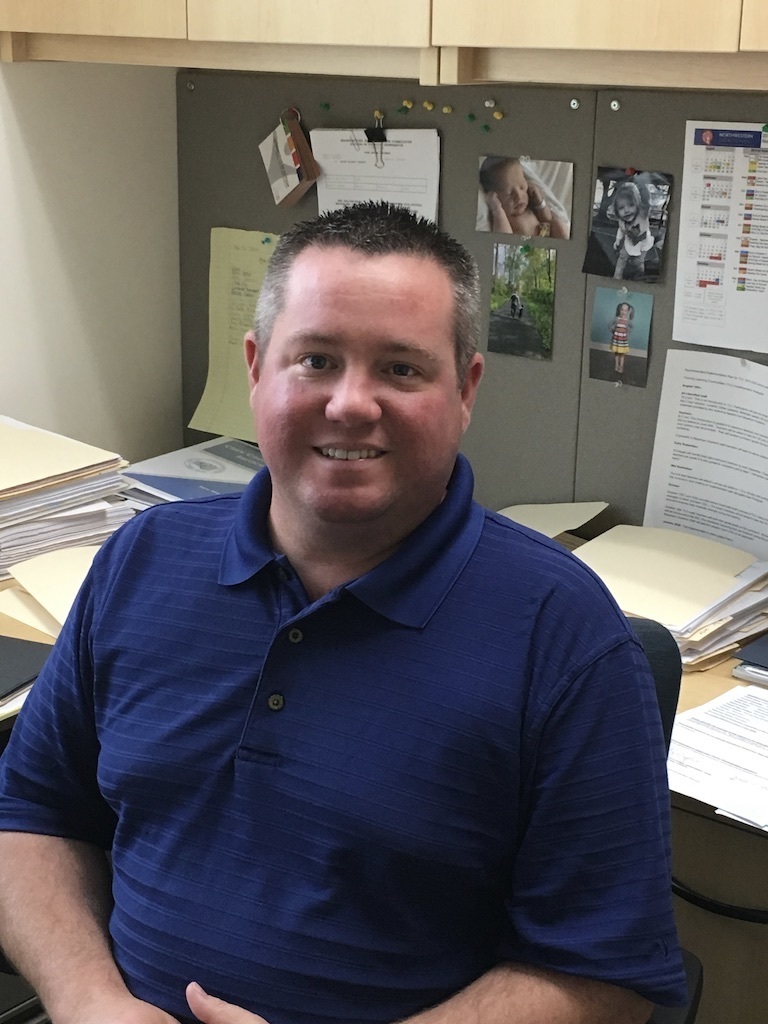 Please welcome Speech Pathologist, Sarah Hemer who joins Northwestern this year. Also, Hailey Gannon will be joining our family as an Occupational Therapist Assistant. Welcome to Northwestern, ladies!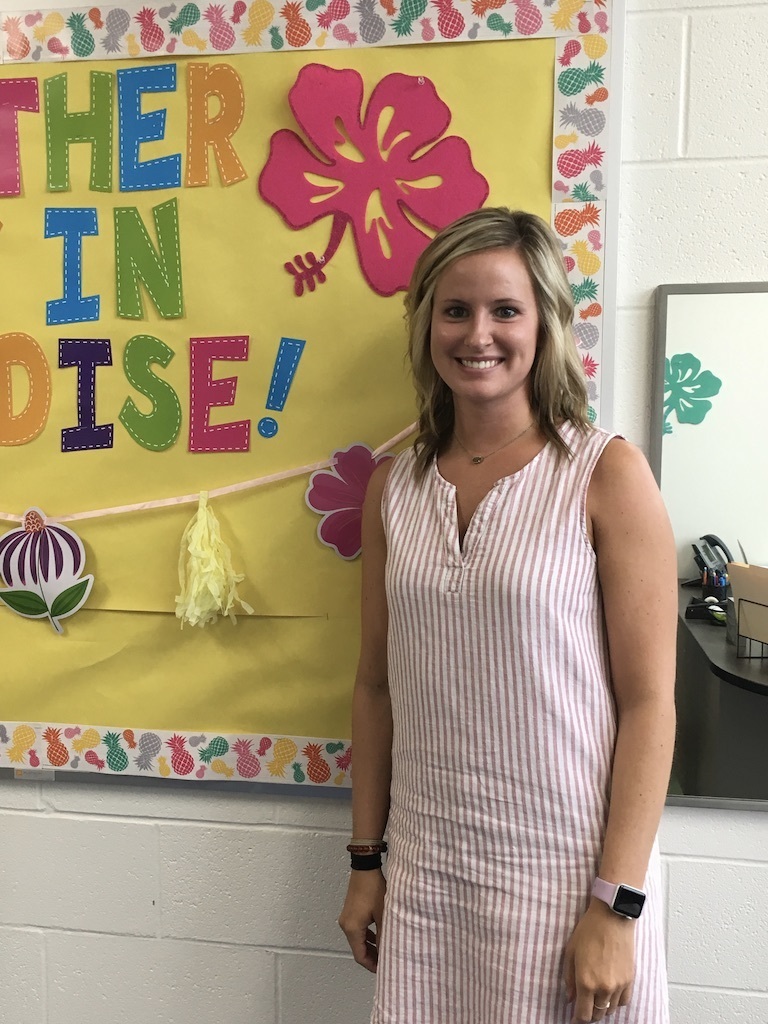 Please welcome to Northwestern Elementary Fifth Grade Teacher Chad Jackson and Preschool Teacher Ashley Robinson to the Northwestern Family!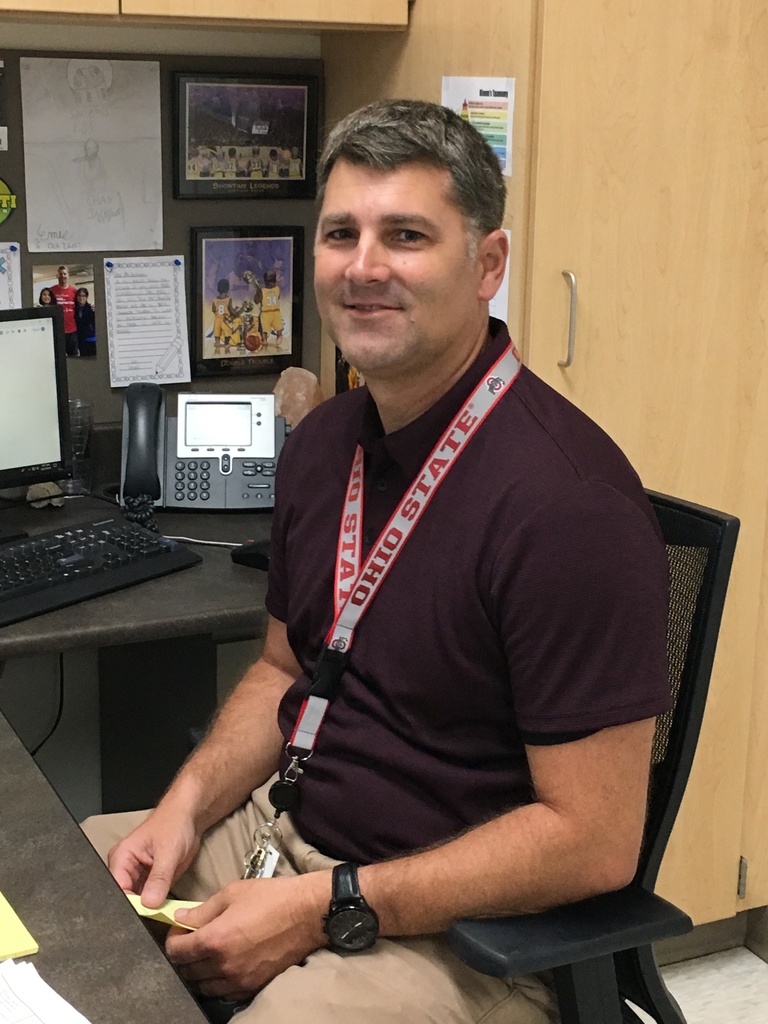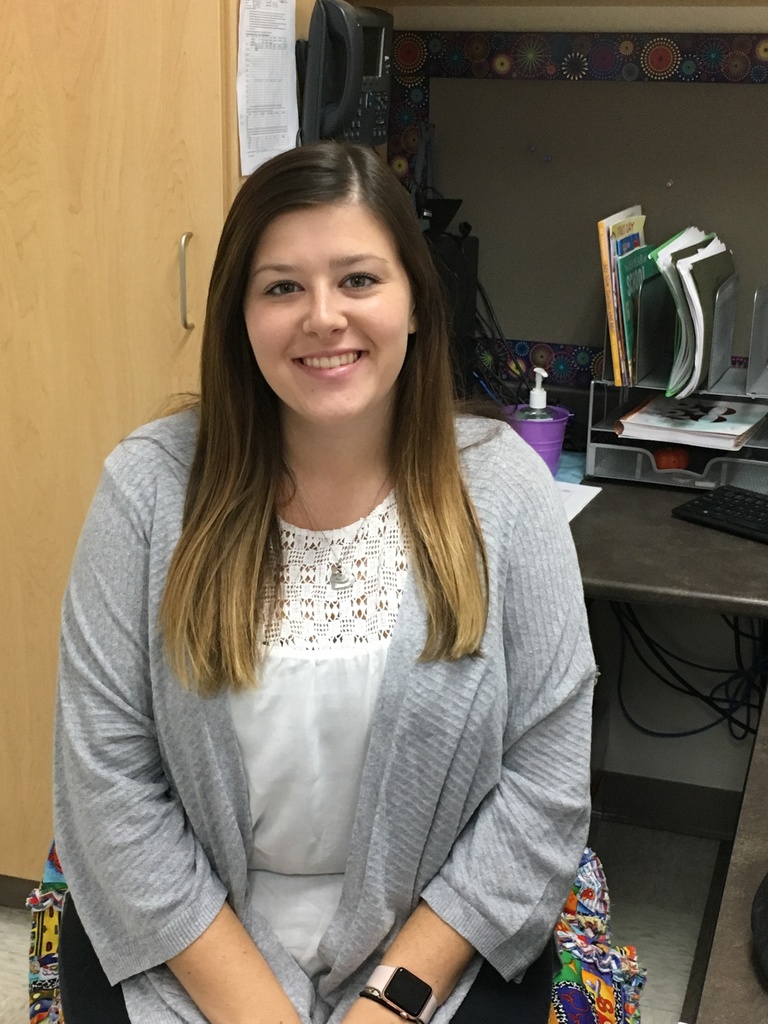 IMPORTANT NOTICE: There was a typo on the District newsletter calendar that went out in July. August 26 reads "no school" but in FACT, we DO have school. We apologize for the error and will see everyone in class.🗓📚